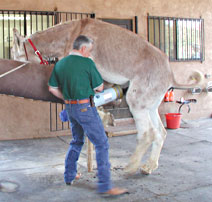 "Phantom" collection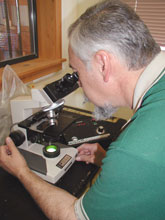 Semen evaluation performed in
our lab to verify motility and
morphology
(...continued from the previous page)

and colts. Breeding fee for this service is $200. per mare plus daily feed and care of wet or dry mares.

Technical support for our clients is available from 3-10pm MST. Please call Marco A. Oviedo at 505-351-2280.

For other Customer Services, please call Pat Trujillo-Oviedo at 505-351-2280 from 8am-5pm MST.




Pre-season (60 days advance) bookings for stud services will be discounted 20% (shipping will not be discounted). Centinela Ranch warranties quality semen with good motility and volume of at least 500 million motil sperm per shipment. For highest ratio of successful insemination, we recommend that you work with an equine practitioner on the receiving end who has an ultrasound machine and a great deal of experience with transported semen.

At the time of booking, you will need to choose your first and second choice of sires.

For best chances of conception please follow these guidelines: call us within the estrous cycle of your mare or jenny so that the jack or stallion of choice can be flushed to ensure the best quality semen. Contact us again 24 hours prior to ovulation which is when your mare or jenny will have a follicle of at least 33mm. 35mm is optimal for successful artificial insemination and can be achieved through use of an ovulation agent (which can take up 36 hours) * The use of an experienced equine practitioner with full facilities is invaluable for success of the procedure. You should disclose the reproductive (continued...)